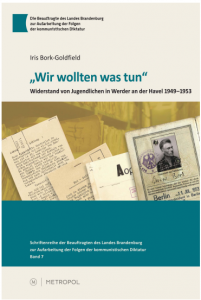 BORK-GOLDFIELD, Iris. "Wir wollten was tun" Widerstand von Jugendlichen in Werder an der  Havel   1949-1953. Metropol: Berlin 2015. ISBN: 978-3-86331-247-3. [We Wanted to Do Something: Youth  Resistance in Werder, GDR 1949-1953]
BORK-GOLDFIELD, Iris. Video Documentary: Wir wollten was tun! Werderaner Jugendliche  leisten Widerstand, 1949-1953, 2014.
BORK-GOLDFIELD, Iris and Joan Keck Campbell. GOLDEN: Writing in the Foreign Language  Classroom. An interactive online teacher development course. Published on the web. Oct. 1999;  updated 2007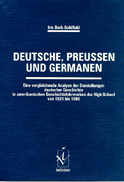 BORK-GOLDFIELD, Iris. Deutsche, Preussen und Germanen. Eine vergleichende Analyse der Darstellungen deutscher Geschichte in amerikanischen Geschichtslehrwerken der High School von  1924 bis 1988. Iudicium Verlag: München 1996. [Germans, Prussians and Germanic Tribes. A Comparison of the Description of German History in American High School Textbooks Published Between 1924 and 1988.] The book was reviewed by Prof. Wolfgang Jacobmeyer in Internationale Schulbuchforschung 18/3, 1996, pp. 424-425.
BORK-GOLDFIELD, Iris, Frank Krampikowski, and Günther Weimann. Geschichte und Geschichtserfahrung Landeskundevermittlung: Kulturverstehen im Deutschunterricht, Fernstudienangebot Germanistik—Deutsch als Fremdsprache. Tübingen: Deutsches Institut für Fernstudien, 1991, 213 pp.  [History and Historical Experience and the Teaching of Culture: Understanding Culture in the German Language Classroom]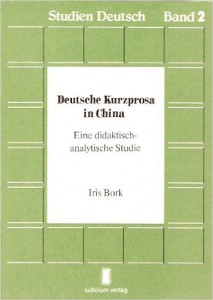 BORK, Iris: Deutsche Kurzprosa in China. Eine Didaktisch-analytische Studie ausgehend von Unterrichtserfahrungen  an einer chinesischen Fremdsprachenhochschule. In,  Studien Deutsch, Bd. 2, Iudicum Verlag: München 1985.
[German Prose in China. A Didactic and Analytical Study Based on Teaching in a Chinese Language School.]
Articles/ Translations
BORK-GOLDFIELD, Iris. "The Rassias Method and the Exchange Student: A Successful Marriage," The Ram's Horn, Volume IX, 2013, pp. 10-12
BORK-GOLDFIELD, Iris. "Sonderprogramm USA 2013 für AATG Chapter Testing Chairs,"AATG Newsletter, Volume 48, Number 4, Aug. 2013, pp. 18-19
BORK-GOLDFIELD, Iris. "Reading Images of American Culture: TV Commercials in the Foreign Language Classroom," American Studies through Russian & American Eyes. The United States in a Global Context: American Studies and Cross-Cultural Communication, Cherepovets, Russia 2005, pp. 58-66
BORK-GOLDFIELD, Iris, et al. "Widerstand," in: AATG Materials Center: Film im Unterricht, Cherry Hill, New Jersey: AATG, 2003, pp. 160-198 ["Resistance"]
BORK-GOLDFIELD, Iris: "Language and Culture: The Inseparable Pair," International Academy of Linguistics Behavioral and Social Sciences Conference Documentation. Cancún, Mexico, Nov. 2001
BORK-GOLDFIELD, Iris and Joan Keck Campbell. "Writing by the GOLDEN Rule: Creating a Strong Community of Learning and Teaching Educators," Lernwelten 4, Sept. 2000, pp. 8-9
MIEBS, Udo and Leena Vehovirta. Kontakt deutsch. Redemittelbuch. Munich: Langenscheidt, 1997, (Translation from German into English, pp. 185-196)
BORK-GOLDFIELD, Iris. "Ein Himmelreich in Europa—oder: ein Seminar im Studienhaus Wiesneck." Treffpunkt Deutsch 2/1989, pp. 44-45  ["A Kingdom of Heaven in Europe—or: A Seminar at the Research Center Wiesneck.]
BORK-GOLDFIELD, Iris. "Computer im Landeskundeunterricht—eine Perspektive für die Fremdbildvermittlung?" Amerikanisches Deutschlandbild und deutsches Amerikabild in Medien und Erziehung, ed. Frank Krampikowski in the series Interkulturelle Erziehung in Theorie und Praxis, Vol. 10. Baltmannsweiler: Burgbücherei Schneider, 1989, pp. 367-387 ["The Use of Computer Programs for the Study of German Culture—A Perspective for Teaching a Foreign Culture?"]
BORK-GOLDFIELD, Iris. "Mögliche Funktionen von Computerprogrammen und ihre Anwendungsmöglichkeiten   im Fremdsprachenunterricht." INFO-DaF—Information Deutsch als Fremdsprache, 1/1988, pp. 40-45  ["Possible Functions of Computer Programs and Their Use in the Foreign Language Class"]
BORK-GOLDFIELD, Iris. "Deutsche Literatur im Ausland: Schwierigkeiten beim Erfassen textueller Bezüge."AAUSC-Werkhefte 1/1988, pp. 1-25 ["German Literature in a Foreign Country: Difficulties in Comprehending Literary Texts"]
BORK, Iris. "Schwierigkeiten chinesischer Deutschlerner beim Verständnis deutschsprachiger Prosa."INFO-DaF—Information Deutsch als Fremdsprache, 2/1984/85, pp. 46-56 ["The Difficulties of Chinese Students of German in Understanding German Prose"]
Book Reviews
BORK-GOLDFIELD, Iris. Heike Wiese. Kiezdeutsch: Ein neuer Dialekt entsteht. Beck Verlag, 2012, in Language Problems & Language Planning, Vol. 37, No. 1, spring 2013, pp. 90-92
BORK-GOLDFIELD, Iris. Hans Wagener. Understanding Erich Maria Remarque. Columbia, SC: University of South Carolina Press, 1991, in German Studies Review, Vol. 18, No. 2 (May, 1995), pp.361-362
BORK-GOLDFIELD, Iris. Jost Dülfer. Deutsche Geschichte 1933-1945. Führerglaube und Vernichtungskrieg. Stuttgart, Berlin, Köln: W. Kohlhammer Verlag, 1992, in German Studies Review, Vol. 17, No. 2 (May, 1994), pp. 408-409 [German History 1933-1945. "Belief in the Fuehrer and in the War of Extermination"]